Michael's class finished their exams and headed off to Ebisu for a fieldtrip to the Museum of Yebisu Beer, a short train ride from school in Shibuya. Here they are heading out of the station: 
The drinking age here is 20 but nobody seemed to mind, or ask. Museum rules………We Americans can only marvel at a school-sponsored trip to a brewery museum!
The brewery was started here, in what was the a rural area in 1889, and the technology and brew-master were brought in from Germany.  In 1900 Yebisu Beer won a gold medal at the Paris Expo and, as our handout said, "the quality of Yebisu beer rocked the globe". Here is our docent – the tour was in Japanese and made no concessions to our group! So: Fiona is applying to transfer from LACMA…
A note on Ebisu/Yebisu:
The original name was written with a syllable no longer in use, sounding the "Ye". The station and area, named after the brewery, are known as Ebisu, but the brand name reverts to the old sound of Yebisu. Yebisu is the god of commerce and one of the seven gods of good fortune. Always shown holding a fish, probably a carp
Michael's teacher takes this part of the course very seriously! And the group joins in the tasting part of the tour with enthusiasm:
One last thing you may wonder about. Why is the theme tune from The Third Man played in Ebisu station every time a train arrives? Well, in 1994 a "We Serve Yebisu Beer" campaign involved a TV commercial which chose this tune. It is now known here as the Yebisu Song.  (You can hear the jingle recorded at the station here (at about the 1 minute mark) and the original Third Man track here.)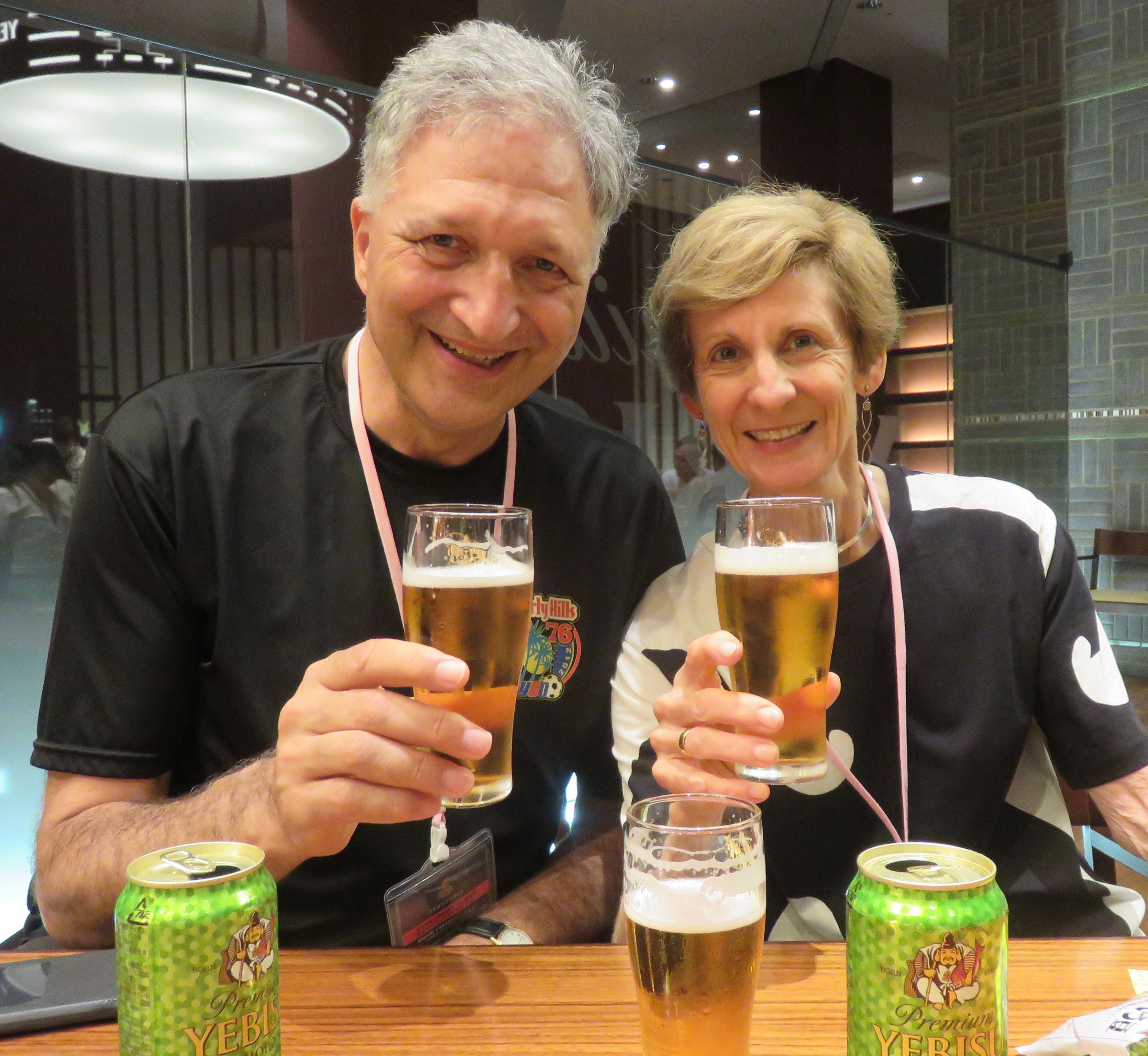 かんぱい.Kanpai!!